Various Sites, Throughout Utah
Various Homeowners and Developers
Since 1996, LEI has provided prefessional services to private developers throughout the western United States.  We have established solid working relationships with a number of community leaders, large developers, regional homebuilders and corporations.  Our primary focus is on understanding each project's issues throughout its life, from concept through construction and beyond, all while listening to the clients' needs.
We believe in a creative design approach and in communicating with the client to understand overall intent of the structure.  This approach has enabled us to provide engineering services for all types of commercial and residential projects.  At LEI, we focus on quality product, competitive pricing and timely turnaround.  We strive to work within the schedule of the client during the design phase and the contractor during construction.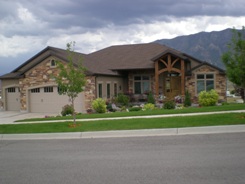 Project Experience
Gravity / Lateral Analysis
Timber Framing
Steel Framing
Reinforced Masonry
Reinforced Concrete
Light Gage Steel
Timely RFI Responses
Retaining Wall Design
Construction Drawings
Site Observation Visits
Remodels / Additions