Western Wyoming,
BLM
The Scab Creek Recreation Site is located in western Wyoming, at the base of the Wind River Range. The BLM administers the Scab Creek Recreation Site and the access road into the area. With a previous employer, in Carbondale, Colorado, Adam Castor was part of a design team hired by the BLM to develop design alternatives for the existing 385-acre Scab Creek campground area.
Design objectives included improving the quality of the site and recreation experience, increasing public health and safety, updating inadequate site amenities and the spatial layout, increasing campground user capacity and function, separating stock users from non-stock users, introducing potable water sources, and developing a soft surface trail alignment within the area.
This is a covered pedestrian bridge on private property with an approximately 62′ span and serves as access from the main road to the property and cabin. The bridge is used by the family members as well as the by youth and church groups visiting the site.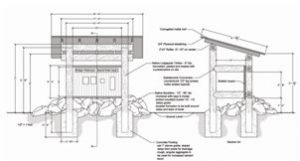 The Scab Creek Recreation Site is one example of Adam Castor's experience working with governmental and citizen-based agencies on a project that will directly impact the general public and increase the value of a recreation site administered by the BLM.
(Project Experience by Scott Sherrow and\or Laren Bailey)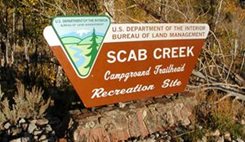 Project Experience
Federal, State, Local, and citizen-based agencies design coordination.
Field GIS data collection.
Physical site inventory and analysis, and on-site design.
Design alternative development.
Production of design details for site amenities.
Conceptual camp site design;
GIS mapping and AutoCAD production.
Supporting the draft Recreation Project Plan writing effort.