Grandy County, Utah
State and Institutional Trust Land Administration
The Lemon Lane project is a proposed residential development in Grand County, Utah on land owned and administered by the State and Institutional Trust Land Administration.  The project will be the first of its kind near Moab that is based upon Traditional Neighborhood Design principles including short frontage lots, detached garages, rear-loaded townhome units, and an emphasis on pedestrian circulation and trail connectivity.
A primary goal of the project is to provide high quality housing alternatives to Grand County's existing workforce and first and second-home buyers at an affordable price.  Additional goals include minimizing site disturbance, preserving existing drainage channels, exploring sustainable alternatives, and encouraging community interaction through common areas and pedestrian friendly streetscapes.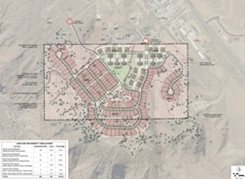 Project Experience
Project Management
Site Inventory and Analysis
Land Planning
Civil Engineering
Conceptual Architectural Design
Government Permitting
Public Outreach Facilitation