Green River, Utah
Green River Companies
Green River Companies is a unique irrigated farm currently under development in the arid climate of southern Utah on the eastern banks of the Green River.  While maintaining the agricultural atmosphere of the area, Green River Companies has planned for and began construction of a modern twenty first century farm center.
LEI has been instrumental in providing the owners of Green River Companies with quality surveying and engineering related services to accomplish the successful completion of the above mentioned tasks.  A detailed boundary survey of the property within nineteen sections was prepared and utilized as a base drawing for planning and engineering services.  The adrous task of searching for and recovering over one hundred original survey monuments, including redwood posts and marked stones, was completed in only a few weeks.  Subsequent surveying services such as construction staking, property exhibits and legal descriptions have been provided to facilitate the continued success of this project.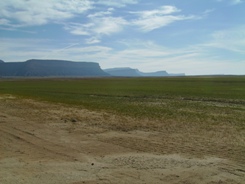 Project Experience
Land Surveying
Project Management
Land Planning
Civil Engineering