Meridian, Idaho
Venga Ventures
Scott Sherrow served as Project Principal/Project Engineer and Laren Bailey served as Project Planner and Entitlement Specialist for the site work associated with the 16,000 square foot flexible office space building that features sustainable design practices, flexible/modular interior space.
Work included site grading design, temporary erosion and sedimentation plans, drainage analysis, conveyance design, water and sewer design, on-site roadway design, as well as project topographic and control surveying. Extensive coordination was required with the City of Meridian Public Work Department to develop sanitary sewer route to serve the project that complemented the city's future plans to serve other proprieties in the area.
Building Gold Leeds Certified
The project's goal was to achieve a LEED Gold certification from the USGBC for sustainable building features and practices. The site development team incorporated sustainable design features into its civil site design to asset in this objective, such as on-site stormwater infiltration and an in depth pollution pre-vention plan. VengaWorks project also participated in the Idaho Power Building Efficiency Program.
(Project Experience by Scott Sherrow and\or Laren Bailey)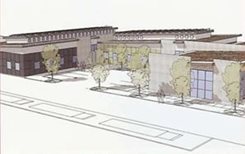 Project Experience
Project Site Planning
Project Entitlements
LEEDS Site Design
Agency Coordination
Sewer Master Planning
Civil Design:

Site Grading
Stormwater Management
Water Distribution Design
Sewer Collection System

Construction Observation & Admin-istration Services