Park City, Utah
PC Venture Partners
Through a consent decree negotiated with Summit County, the Murnin-Kilgore property zoning was changed to a Commercial Infill zone with a specific designation of Neighborhood Commercial.  The consent decree also established a base density of 74,000 gross square feet of space.  The proposed mixed-use site plan will effectively combine office, restaurant, and retail space consistent with surrounding uses.
The site planning responds to the surrounding context and existing site conditions by proposing regionally appropriate architectural character, providing a large amount of natural open space, and preserving natural vegetation and wetlands.  To reduce the amount of impervious surface required for parking and to meet minimum parking requirements, underground parking will be provided within the building located at the highest elevation of the site.  The additional buildings have been located to maximize frontage along Highway 224, to provide visual and pedestrian connections within the site, and to help screen the parking areas.
See the PDF download for illustrations.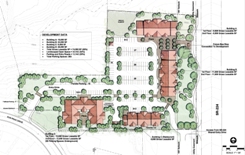 Project Experience
Site Analysis
Conceptual Site Planning
Conceptual Landscape Design
Site Plan Rendering
Government Processing