Park City, Utah
Studio 255 Architecture
The Walker residence is a split-unit home located in Park City, Utah.  The building lot created unique design challenges with its narrow width, steep terrain, and existing construction materials.  The home owner's desire was to create an outdoor backyard space that would provide an opportunity for small, year-round gathering and private relaxation.  In addition, the home owner wanted to connect the front yard to the back yard with a stair case along one side of the home.
RiverStone Design Group (a former LEI company) was hired by the architect to perform landscape design services for the outdoor renovation.  The steep topography and size constraints of the site required creative upgrades to and removal of, existing retaining wall structures to create additional patio space.  Outdoor amenities include a hot tub, fire place, water feature, and heated concrete.  The selection of plant materials was based upon creating a native, water-wise landscape that would provide privacy screening.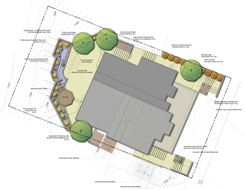 Project Experience
Site Analysis
Site Planning
Landscape Design
Design Detailing