Lincoln County, Wyoming
Castle Arch Real Estate
The Meadows at Star Valley is a residential development combining a mix of residential unit types from attached townhomes to short frontage single family lots to larger single family lots.  At full build-out, the project will provide 198 residential units.  The first phase of the project kicked off in 2009 and includes eight four-unit townhome buildings and associated infrastructure.
The initial landscape design focused on the first phase of the project and was designed to provide an attractive landscape for the townhome buildings, buffer the residential units from an existing roadway, and to enhance the development entry feature.  The plant selection was primarily based upon recommendations from a local nursery and includes species that are appropriate for the local climate and hardiness zone.  In addition, water-wise irrigation systems are proposed.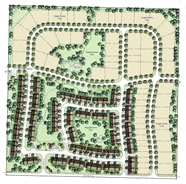 Project Experience
Master Planning
Civil Engineering
Overall Project Conceptual Landscape Design
Conceptual Entry Feature Design
Phase A Landscape Design