Springville, Utah
Neways, Inc.
Neways creates, manufactures, and distributes personal care product, nutritional supplements, and household cleaning products in 28 countries around the world and have nine corporate offices worldwide.
LEI provided an initial boundary and topographical survey for the entire site along with the necessary legal work to dedicate the roadway re-alignment along the I-15 frontage road.
Surveying and engineering services for the 85,000 sf corporate office and the 310,000 sf manufacturing facility sites also included the site design, site grading, stormwater design and underground utility design in conjunction with construction surveying of 12 acres of parking lot and asphalt drives, utility services, storm water system, building location and grids, docking areas and landscape areas.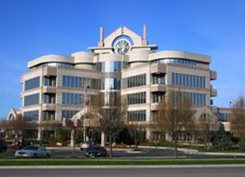 Project Experience
Boundary and Topographical Survey

Determine Boundary
Contours
Spot Elevations
Existing Conditions and Utilities

Site Design
Construction Surveying

Building Layout
Site Layout
Underground Utilities
Storm Water System
Grading