Spanish Fork, Utah
American Leadership Academy
The American Leadership Academy Project included a 20 acre K-12 charter school site with three buildings, parking areas and footbal/track facilities.  The project also included the Mountain Land Applied Technology College Campus which included two buildings and parking areas with a 31 lot residential component.
LEI provided the initial ALTA/ACSM Land Title Survey for the site which at the time was an open gravel pit located on several parcels of land and included many utility easements, existing utility lines, irrigation ditches, and gravel and debris piles.  Surveying and engineering services for the sites also included the conceptual planning, site design, site grading, stormwater design and underground utility design in conjunction with construction surveying of the parking lots, roadways, utility servcies, stormwater system, building location and grids, and extensive irrigation system.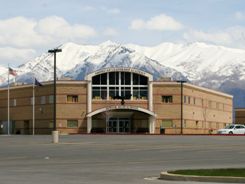 Project Experience
ALTA/ACSM Survey

Determine Boundary
Contours
Existing Conditions and Utilities

Site Planning and Design
Construction Surveying

Building Layout
Site Layout
Underground Utilities
Storm Water System
Grading