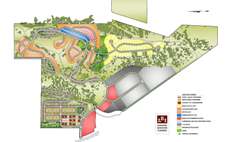 Mapleton, Utah
Ensign Bickford Company
Located along the Wasatch Front at the foot of the Sierra Bonita Mountains, Harmony Ridge is a premier 481-acre master planned, mixed-use community. By incorporating a unique combination of neighborhood retail, and commercial architecture, traditional neighborhood design characteristics, a larger single family estate lots, Harmony Ridge will provide a variety of residences for families and professionals, and will bring unique neighborhood shops and new business opportunities to the community.
The physical attributes of the Harmony Ridge site provide unparalleled views of Utah County and beyond, but bring with them unique development challenges. The land planning and engineering of the site have had to be sensitive to steep slopes, mature stands of existing vegetation, fault lines, power lines, and the contaminated soils left over from historical uses. LEI staff has worked closely with the owner of the property, the developer, numerous environmental consultants, and Mapleton City staff and residents through the site remediation and land planning processes to ensure that the proposed development is "in harmony" with the site's unique characteristics.